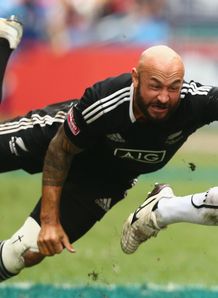 All Blacks Sevens star DJ Forbes will take no part in this year's ITM Cup in order to give his body a rest ahead of a big 2013/14 season.
Forbes, who led New Zealand to victory at the Sevens World Cup last month, was at the helm of Counties Manukau last year when the Steelers sealed promotion back into the top tier of the domestic game.
However, he was not included in the squad named by Tana Umaga and Steve Jackson on Tuesday, the reasons for which have now been revealed.
"I decided to stand down from ITM Cup to give my body a long overdue rest in the hope of pro-longing my sevens career and contributing all I can to the sevens environment," the 30-year-old told AllBlacks.com.
"Obviously it comes at a huge cost because I still enjoy fifteens and I'm going to miss my boys at the Steelers and what we have built over the years.
"But decisions like these have to be made and I'm sure everyone can see that the sevens game is changing and the time off to prepare for a circuit is essential with how the game is going and its demands on the body."
The Sevens World Series kicks off again in October with the opening leg on the Gold Coast and concludes in London in May. Gordon Tietjens' men will then defend their Commonwealth Games crown in Glasgow in late July.