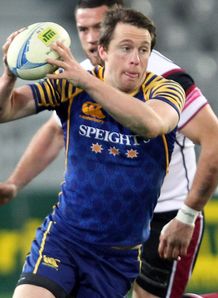 All Blacks utility back Ben Smith is excited about making his return for Otago in Friday's ITM Cup championship final against Counties-Manukau in Pukekohe.
Smith has remained loyal to the Dunedin-based outfit despite them going through a lean period in recent years.
"This is where I feel at home," he told Sportal.
"It's part of me. I can't see myself moving too far away. I just love it here."
The 26-year-old watched Otago's semi-final win over Tasman with Otago team-mate Tamati Ellison.at the All Blacks ' team hotel in Brisbane last Friday.
"Tams and I watched the game together and it was awesome to see the boys pull through," said Smith.
"It's exciting watching the boys. They've played really well and it will be awesome to be part of this week.
"The game plan the coaches have out in place gives the players some freedom.
"They're enjoying themselves and that's what happens when you get the freedom to express yourself."
Otago's turnaround in fortunes has been remarkable. From being on the brink of liquidation to finalists is something which has made a great impression on Smith.
"I've only played two games this year but to watch the team improve so much has been great," he said.
"It's a credit to the players and the coaches.
"We need to do ourselves justice. The other boys have done the hard yards and I have to make a quick transition back into the team."
Smith expects a tough assignment against Counties, a team which he rates as a difficult opponent.
"I've seen a bit of them," he said.
"They're a dangerous team all-round. They've got big forwards who are ball players and their backs are very skilful and off-load well. We know they'll be tough.
"Defensively we have to be smart against them. We have to make sure we stay connected as a unit, that's the main thing."