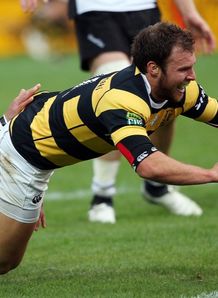 Related links
Also see
The Ranfurly Shield will reside in Taranaki until next year thanks to a 29-11 ITM Cup win over Hawke's Bay in New Plymouth on Sunday.
The Amber and Blacks fly-half Beauden Barrett kicked 19 points as he guided the home side to their seventh win of the year with another perfect display from the kicking tee as well as directing traffic with a cool head.
Just four days after taking the Log o' Wood from Southland, the Taranaki forwards put on a huge perfromance with Scott Waldrom, Jarrad Hoeata and skipper Craig Clarke leading the way.
Left wing Frazier Climo scored the game's first try, leaving Barrett with an easy conversion before his third penalty gave Taranaki a 16-3 lead at half time.
Jayden Hayward's try early in the second half put the result beyong doubt with the Magpies' only reply coming in the form of wing Richard Buckman's try on the hour mark.
The scorers
For Taranaki:
Tries: Climo, Hayward
Cons: Barrett 2
Pens: Barrett 5
For Hawke's Bay:
Tries: Buckman
Pens: Horrell 2
Taranaki: 15 Andre Taylor, 14 Jackson Ormond, 13 Willie Rickards, 12 Jayden Hayward, 11 Frazier Climo, 10 Beauden Barrett, 9 Tyson Keats, 8 Ben Souness, 7 Jarrad Hoeata, 6 Scott Waldrom, 5 Craig Clarke (c), 4 James Broadhurst, 3 Shane Cleaver, 2 Laurence Corlett, 1 Michael Bent.
Replacements: 16 Timo Tutavaha, 17 Carl Carmichael, 18 James Broadhurst, 19 Samuela Vunisa, 20 Brett Goodin, 21 Jack Cameron, 22 Frazier Climo, 23 Willie Ioane.
Hawke's Bay: 15 Mark Jackman, 14 Richard Buckman, 13 Tu Umaga-Marshall, 12 Gillies Kaka, 11 Andrew Horrell, 10 Daniel Kirkpatrick, 9 Chris Eaton, 8 Karl Lowe; 7 Adam Bradey, 6 Bryn Evans (c), 5 Brodie Retallick, 4 Trent Boswell-Wakefield; 3 Ben Tameifuna, 2 Hikairo Forbes, 1 Kas Lealamanua.
Replacements: 16 Danny Logan, 17 Brendon Edmonds, 18 Jodi Allen, 19 Maselino Paulino, 20 Hugh Reed, 21 Isaac Paewai, 22 Tua Saseve, 23 Tino Nemani.