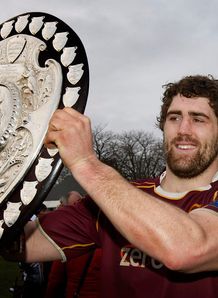 The Ranfurly Shield will be up for grabs once again when Southland play host to Taranaki in Wednesday's ITM Cup clash at Rugby Park .
The Amber and Blacks' challenge for the famous Log o'Wood in Invercargill shapes as a must win - if not only to bring some guaranteed glory to the season, but to avoid relegation and, remarkably, stay in contention for a top-two finish.
Taranaki are in a fight with six other sides for automatic relegation from the Premiership to the Championship.
But thanks to Waikato's loss to Manawatu on Saturday and Canterbury's defeat to Bay of Plenty today (Tuesday), they could still be in with a chance of a shot at the title.
One thing is for sure, Taranaki will have to play much better than they did against Canterbury if they have any hope of lifting the Shield for the first time since 1996.
Saturday's 27-0 thrashing by three-time defending champions Canterbury has undone a lot of the good work early in the season, and highlights just how much the 15-10 loss to Manawatu a fortnight ago could hurt - not only Taranaki's title aspirations, but their survival chances.
Southland: Robbie Robinson, Kade Poki, Kendrick Lynn, Matt Saunders, Glen Horton, James Wilson, Scott Cowan, Elliot Dixon, Tim Boys, John Hardie, Ben Nally, Josh Bekhuis, Chris King, David Hall, Jamie Mackintosh (c).
Replacements: Jason Rutledge, Nic Barrett, Michael Fatialofa, Tom Chamberlain, Sonny Rangitoheriri, Scott Eade, Tony Koonwaiyou, Michael Peterson.
Taranaki: Andre Taylor, Jackson Ormond, Willie Rickards, Jayden Hayward, Frazier Climo, Beauden Barrett, Tyson Keats, Ben Souness, Scott Waldrom, Chris Walker, Craig Clarke (c), Jason Eaton, Shane Cleaver, Laurence Corlett, Michael Bent.
Replacements: Timo Tutavaha, Carl Carmichael, James Broadhurst, Samuela Vunisa, Brett Goodin, Jack Cameron, Kurt Baker, Willie Ioane.