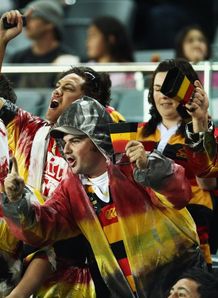 Waikato will be desperate to get their ITM Cup campaign back on track when they tackle Tasman in Hamilton on Friday.
Two 'Premiership' losses in the last week have put the Mooloos under pressure to win this crossover clash against a team that have proved to be a thorn in their side in previous years.
Waikato lost to Tasman in both 2008 and 2009 before getting their first win against the fledgling union last year, 33-15 at Waikato Stadium.
"With the short turn around to the Tasman game our lads have been concentrating on their recovery and getting ready to fire at Waikato Stadium," said Waikato coach Chriss Gibbes.
"There are still seven round robin games to be played and we are determined to get back into this competition and it starts on Friday night".
Nathan White, Toby Lynn, Jack Lam, Brendon Leonard, Henry Speight all move to the Waikato bench from the side that lost to Bay of Plenty.
Marty Holah comes into the side to replace Zak Hohneck along with Declan O'Donnell who replaces Henry Speight on the left wing and Save Tokula replaces Jackson Willison at centre with Ted Tauroa replacing Latu Talakai in jersey 23.
Toby Smith, Romana Graham and Matt Vant Leven moves from the reserves into starting line-up.
The teams:
Waikato: 15 Tim Mikkelson, 14 Frank Halai, 13 Save Tokula, 12 Rena Schuster, 11 Declan O'Donnell, 10 Trent Renata, 9 Tawera Kerr-Barlow, 8 Alex Bradley (c), 7 Marty Holah, 6 Matt Vant Leven, 5 Romana Graham, 4 Chris Middleton, 3 Ben May, 2 Aled de Malmanche, 1 Toby Smith.
Replacements:16 Marcel Cummings-Toone, 17 Nathan White, 18 Jack Lam, 19 Rory Grice, 20 Brendon Leonard, 21 Sam Christie, 22 Henry Speight, 23 Ted Tauroa.
Tasman: 15 Tom Marshall, 14 Robbie Malneek, 13 Jack Umaga, 12 Andrew Goodman (c), 11 Mitchell Scott, 10 James Marshall, 9 Steve Alfeld, 8 Mark Bright, 7 Shane Christie, 6 Liam Squire, 5 Pablo Huete, 4 Filipo Levi, 3 James Hadfield, 2 Quentin MacDonald, 1 Sam Prattley.
Replacements: 16 Francis Smith, 17 Craig Moore, 18 Riki Hoeata, 19 Jonathon Poff, 20 Shawn Begg, 21 Kieron Fonotia, 22 Lucky Mulipola, 23 Fai Mika.