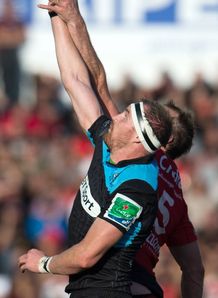 Related links
Teams
Al Kellock will lead Glasgow Warriors for the 2014/15 season after being named club captain for the ninth year in a row.
The 6ft 8in lock has been an instrumental figure both on and off the pitch since his arrival at Glasgow in 2006 and has gone on to make 141 appearances for the club.
After picking up an arm injury at the tail end of 2013, the 33-year-old bounced back to captain the Warriors against Leinster in the showpiece final in Dublin.
Kellock holds the all-time Pro12 record for the most appearances as captain of any team, leading the Warriors on 95 occasions.
He made his 100th league appearance for Glasgow against Edinburgh last season and has also played in 38 European matches for the club.
"It's a massive honour to have been named captain for the ninth season in a row as it's something I enjoy enormously and feel it helps enhance my game," said Kellock.
"There is only one thing better than joining a successful team and that is being part of it from the very beginning.
"The club is growing all the time and we want to go one step better this season.
"When I was growing up and playing for Allan Glens, Glasgow wasn't a rugby city but it's come on enormously since then.
"The amount of supporters we have now is incredible and the number of people who headed across to Dublin for the Pro12 Final was awesome.
"We had more fans over there than we did for home games when I first signed eight years ago.
"We are an incredibly special club and I am delighted to be able to captain it once again this season."
"We are delighted to announce that Al (Kellock) will once again be our captain," said Glasgow Warriors head coach, Gregor Townsend.
"He works tirelessly on and off the pitch, helping bring out the best in other players, driving our culture and promoting the club.
"He sets an example to others and has played an instrumental part in the development of the club in recent times."