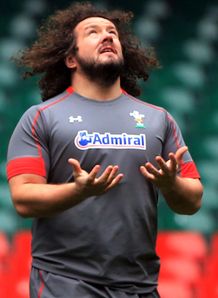 Related links
Teams
Cardiff Blues director of rugby Mark Hammett is after a more mobile version of Wales tighthead prop Adam Jones.
Hammett isn't looking for a different player, just for the Lions forward to 'shed a few kilos' in order to get the best out of Jones around the park.
"He has got some pretty tough targets, targets that he probably hasn't had since 2010 that I expect him to get to," Hammett told Wales Online.
"He will tell you himself he is not the most mobile. So we want to make him more mobile in this game that we play.
"To be more mobile, he needs to shed a few kilos. That's part of what we are looking at getting him to do. From a character perspective and as a bloke, he's fitted in very quickly and obviously a lot of the guys know him."
Hammett revealed that he had wanted to check that Jones was fully motivated to succeed at the club before signing him up.
"When I found about it, I talked to Gats [Warren Gatland] and other players and obviously the most important person was Adam himself. I had a long discussion with him around his motivations and why he wanted to be here," added Hammett.
"That was probably the most critical discussion out of all of them. We know he has got the experience. But you get to a certain age and you can decide you are heading to a place to retire or to make a difference and that was the big thing for me.
"The big thing I expressed with Adam was I want a guy that's going to come here and raise the bar, not lower it."