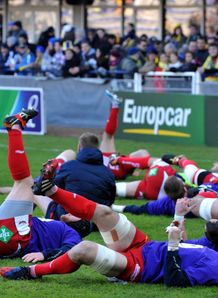 Related links
Teams
The Scarlets have recruited former Welsh international Byron Hayward as their defence coach to work with new boss Wayne Pivac.
New Zealander Pivac was promoted to the head coaching role earlier this week, taking over from the departed Simon Easterby.
And the first move since he has taken charge has been the appointment of Hayward, who has previously coached Wales U20s.
The 45-year-old, who spent time at Llanelli as a player, admits it will be a great opportunity to back to a region he knows well.
"It's nice to be back at the top end of rugby and back into week to week intense high level rugby," said Hayward.
"When you come into the professional game it's relentless and quite challenging at times as I found out in the Premiership with Sale but that's what I'm looking forward to."
"I enjoyed every minute I had when I was here as a player and I'm sure it'll be the same when I'm coaching."
"I've been really encouraged from what I've seen from the players already, they are hard-working and it's evident they play for each other.
"I'll be looking to build on the good work that Simon has done to strengthen the mind set on our game without the ball and be a top quality defensive side.
"Llanelli and Scarlets rugby is known throughout the world. When I played here, people treated me really well and were very receptive. Those things and those memories are still fresh in my mind and they had a massive impact on my decision to come here and be a part of the coaching team.
"As a new coaching team we're not expecting success overnight, we have to put building blocks in place but we'll work hard over time to make an impact and we want to play against the best and beat the best."