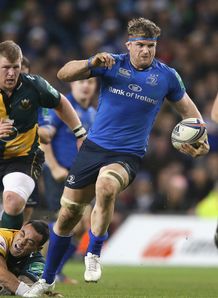 Related links
Teams
Leinster skipper Jamie Heaslip believes his side are in better shape this year to retain their PRO12 crown against Glasgow Warriors.
The number eight, who toured with Warren Gatland's British and Irish Lions after lifting the domestic trophy twelve months ago, is adamant that ending the season without silverware for the first time in four years would not be seen as a failure, and that his team are better-equipped to prevail in 2014.
"It's about what we did in pre-season, it's about what we did on the terrible, cold, wet days in winter or yesterday in training," Heaslip told Sports News Ireland.
"If we come together and play to our standard, we'll get the outcome that we deserve. I know we've had success over the last couple of years.
"If you compare it to last year, we're in a better position. Last year we didn't get out of our group in Europe, this year we got out but unfortunately got beaten by the team who went on to win it.
"The guys who take the field [on Saturday] are going to know their job and will execute to the best of their ability and then back it up for 80 minutes."
The captain was backed up by his back-row colleague Shane Jennings, who feels Leinster must kick things up a notch if they are to emerge victorious against a Warriors side on a nine-game winning streak.
"It was encouraging that we did perform well in defence in the play-off match because they (Ulster) were giving it to us and we were under pressure at times," Jennings told the Irish Independent.
"But we held to the system and the way we wanted to defend. It gives us good confidence that when we do what we're told - under pressure - it pays off.
"We held steady and that builds confidence in our defensive system. We're not getting too carried away though.
"It was good but we'll have to do a lot better if we want to win the trophy because it's been a tough old couple of months to get to here. So we want to do it justice."