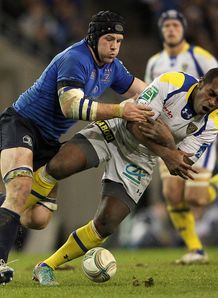 Related links
Teams
Also see
Ireland and Leinster flanker Sean O'Brien admits the prospect of a potential move to Toulon tempted him, before staying in Ireland.
The 27-year-old received an appealing offer to join the French giants earlier this year after a great 2013 with Ireland and the British and Irish Lions.
But after some consideration O'Brien opted to stay with Leinster, although he admits that he didn't come to an obvious conclusion straightaway.
"I thought about it yeah. The couple of days before that I was kind of swaying, I was thinking to myself 'what am I going to do?' and I was talking to my friends and family about it," O'Brien told the Irish Times.
"Yeah, I'd given it serious thought but thankfully in the end everything worked out."
Part of O'Brien's reasoning for staying in Ireland was the management of senior Irish players by the IRFU ahead of next year's Rugby World Cup, an event that O'Brien would be loathe to miss.
The other factor for O'Brien was having to worry less about looking over his shoulder at the competition in the back-row, an area where Ireland are currently blessed.
"It was a massive factor in it. If I was to go away, I suppose I would have been away from home a lot more," added O'Brien.
"I mightn't have been as well looked after as well, especially leading into a World Cup year and that counts for a lot especially when you have big aspirations with Ireland as well, in the Six Nations next year and November even."
O'Brien also admitted that watching Ireland win the Six Nations title in Paris was a bitter pill to swallow, despite his obvious elation for his team-mates.
"It wasn't easy to watch," stated O'Brien.
"I was absolutely delighted when the final whistle blew. But a couple of minutes later I was thinking 'Jesus Christ I should have been involved like', you know what I mean? And you kinda hit a bit of a low.
"At the same time you are delighted for the lads and how they went about their business the whole tournament."