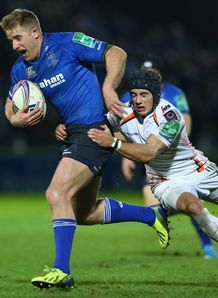 Related links
Teams
Luke Fitzgerald's injury woes are no secret and Leinster team manager Guy Easterby admits that his return date is unknown.
The Ireland international has been battling a temperamental groin injury for some time, although Easterby described the nature of the injury as "niggly" rather than "structural."
When fit for Leinster this season however Fitzgerald has been flying, impressing in the Heineken Cup and in the November Tests for Ireland.
Leinster are out of the Heineken Cup now but lead the Pro12 with only a few matches remaining - starting with Treviso this Friday when Fitzgerald could return.
"He's doing okay. We're still not sure if he'll be available. We're managing that injury," Easterby told the Irish Times.
"It's a niggly one and it improves at times and it's regressing at times. The good thing is we trust him to say he is right and the times that he has said that he has been outstanding: so it is as much about listening to him.
"We'll make a decision about him later in the week, that's the top and bottom of it."
Easterby admits that a possible change of plan regarding Fitzgerald's treatment could take place at the end of the season, but added that he was receiving the highest quality of care in Ireland.
"We make sure that they see the best person available and for Luke the best people available are in Ireland," added Easterby.
"We'd have no problem sending someone off somewhere (abroad). Luke's getting the very best treatment and we're probably going to just reassess that in June - not in terms of who he is seeing - but what the best case moving forward is in terms of getting him right.
"It's about managing it and seeing if there any interventions needed to put it right.
"Because it's a niggle rather than something (structural), it might sort itself out and again it might not. Obviously he'll want to play for us again this season and hopefully that's this weekend."