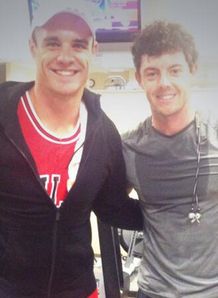 Related links
Teams
When one of the world's top golfers met one of the world's best rugby players, naturally Rory McIlroy spoke to Dan Carter about Ulster.
McIlroy bumped into Carter in a gym in Augusta this week in the build-up to The Masters, which begins on Thursday.
Carter is currently on a sabbatical and has made the most of his time off travelling the world and attending major events, with Augusta next on his list this weekend.
Well aware of Carter's talent, McIlroy - who is a huge Ulster fan - raised the prospect of bringing the All Blacks fly-half and record Test points scorer to Ravenhill, despite conceding that the move may be a longshot.
"Yeah, I was trying to twist his arm a little bit," said McIlroy.
"I walked into the gym and I saw him on the bike and I go: 'There's a big lad ...'
"And I was like, it sort of looks like him - but then I'm like, what would he be doing here? Shouldn't he be playing down in the southern hemisphere somewhere?
"I went over and introduced myself and he's telling me that they are giving him six months off to recover from the Achilles injury that he had last year.
"And so he's just a big fan of golf, here sort of to enjoy it.
"I talked to him a little bit about the Heineken Cup defeat [to Saracens] we had on Saturday. But I think, yeah, it would take a few Masters wins for me to try and sign him for Ulster! It was great to meet him."