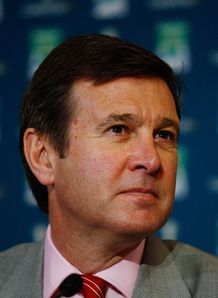 Related links
Teams
Also see
The Welsh Rugby Union (WRU) has stepped into the European rugby row, announcing they have offered to centrally contract their star players.
The statement came on Thursday, with the body aiming to quell fears from Wales' four regions that they may lose yet more players to lucrative cross-Channel transfers to France.
Under the scheme, the WRU would centrally contract the top domestic stars until the current debacle surrounding European rugby and the Heineken Cup is resolved.
Regional Rugby Wales (RRW), the group representing the Welsh regions, on Tuesday pledged their support to the proposed Rugby Champions Cup tournament, set up by the breakaway English and French clubs.
This was, according to the WRU, in spite of the regional body being aware of the central contract blueprint.
"Due to the length of the ongoing European negotiations the Welsh regions have expressed concerns about their ability to conclude their own negotiations with leading players who are approaching the end of their existing contracts," the WRU statement said.
"To help and support the four Welsh regions the WRU has offered to immediately assist to enable the regions to retain their leading Welsh qualified players in Wales.
"The WRU has offered to contract all of the regions' leading Welsh qualified players who are out of contract at the end of this season, on appropriate terms to be agreed.
"Once the negotiations regarding the European tournament are successfully concluded the WRU would permit the regions to revert to the current position with the agreed contracts being reassigned back to them."
WRU Chief Executive Roger Lewis said: "It is important that any player considering his future right now fully understands the level of support the WRU is prepared to offer.
"Our squad is about to embark on a demanding Autumn (November) series of international games and it is vitally important that all of their minds are completely focused on the task in hand.
"I shared this proposal with the regional chairmen on Monday of this week and look forward to what I expect would be a positive response."