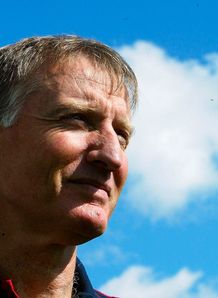 Related links
Teams
Also see
New Edinburgh boss Alan Solomons concedes that turning the region's fortunes around will be a long-term project.
A place in the Heineken Cup semi-finals two seasons ago aside, the Scottish outfit have endured a steady decline in recent years, with their position in the PRO12 competition sliding after finishing a lofty second in 2008/09 season. Since then they have recorded final placings of sixth, eighth, tenth and eleventh last time out.
Having arrived from South African franchise the Southern Kings following their Super Rugby promotion-relegation clash earlier in the month, Solomons is immediately on the backfoot due to a shortened pre-season with his new team.
"I only finished on 3 August and others have taken the reins for pre-season," Solomons told BBC Scotland.
"I don't have a great deal of knowledge of the Edinburgh situation.
"I'm aware of the last two years and obviously people are disappointed with the results.
"We start work straight away and the first two months will give me time to evaluate."
The 63-year-old may not have had too much time to evaluate his squad, but he knows there will be no quick solution to the team's troubles.
"I am aware of the fact this is going to be a little bit of a process," he explained.
"But I would hope that, by the end of two months, we'll see the green shoots of improvement coming through.
"I would like to see the squad improve and I would like to lay the foundations for the side to keep doing that," he added.
"That will take longer than a season, but I would certainly like to see the foundations settled this year.
"It's going to take a while and that's understandable given Edinburgh's situation."
Solomons is no stranger to rugby in the northern hemisphere having previously coached at Ulster and Northampton.
"I've been involved in coaching for 30-odd years and I've been involved in professional coaching since the game went professional," he said.
"My philosophy is simple. I want to create an environment in which each individual and the collective can realise his and their potential.
"It's important for there to be discipline within the squad and it's important to provide leadership to the squad.
"It's all part and parcel of creating the right environment so the players and the team can flourish."