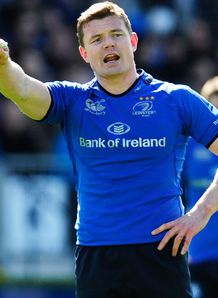 Related links
Teams
New Leinster boss Matt O'Connor insists he will not play Brian O'Driscoll "to death" but rather attempt to prolong his influence.
The 34-year-old O'Driscoll is in the final flings of his career but still has a lot to offer Leinster, a fact that few are more aware of than O'Connor.
However, the Leinster boss says that he will not look to milk O'Driscoll for all he can, rather managing his workload in order to get the best out of him.
"If we manage his playing time there is really good scope for us to look at the succession plan and what Leinster and Ireland do beyond Brian O'Driscoll which is a huge positive," O'Connor told the Irish Independent.
"We won't play him to death, we will try and get him right and get the best bang for our buck in that regard.
"From my end, I would much prefer to have him in the environment and do that than have him out of the environment and be going in at the deep end without the quality of Brian in the group."
With Leo Cullen, Shane Jennings, Isaac Boss, Eoin Reddan and Gordon D'Arcy all out of contract at the end of the season, there are likely to be some significant changes on the horizon for Leinster, and O'Connor is mindful of the need to prepare the next crop of players.
"We need to try and get better and develop the next tier of guys to fill the void that has been left by some quality players and that is going to be an ongoing issue for the group," he explained. "If you look at the senior guys that will be moving on over the next 12-24 months there's going to be some significant challenges when it comes to experience.
"It's a case of trying to make sure that next tier have the necessary skills and understand the standard that goes with wearing a Leinster shirt. You can't replace guys who have players 50, 60 70 Tests overnight."