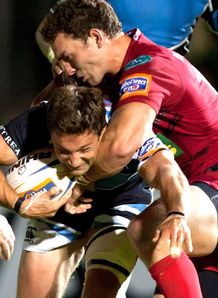 Related links
Teams
Having endured a 2012/13 season hampered by injury, Glasgow scrum-half Chris Cusiter is eagerly anticipating the start of the new campaign.
The 31-year-old suffered a shoulder injury in the early stages of last season and spent the rest of the term on the sidelines.
Back to full fitness, the Scotland international is understandably eager to get out on the park.
"It was great to return to training a few weeks ago. Being out for so long was frustrating and I'm pretty fed up of rehab but hopefully there is some light at the end of the tunnel now," he told glasgowwarriors.org.
"It's good to be back with the boys as there is a good group here and everyone is working hard.
"The focus is primarily on fitness at the moment but Gregor is always good at bringing in rugby related games to keep the training relevant to the sport.
"I played three games at the start of the season but then picked up my injury. The guys had a great year and I was disappointed I wasn't part of it. Hopefully the forthcoming season will be a lot more enjoyable for me."
Glasgow are coming off the back of a competitive season in which they made it to the RaboDirect PRO12 semi-final and Cusiter admits that he was impressed with what he saw from the stands.
"The boys did really well and the style of rugby they played was brilliant. I had never seen a Glasgow team play like that, with the number of tries they were scoring and the entertainment that was on show," he said,
"It was a big step up from previous years where we were hard to beat but not necessarily playing the most attractive rugby.