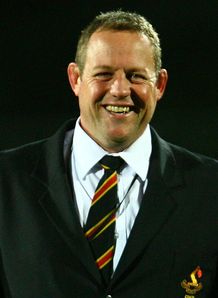 Related links
Teams
The Ospreys have announced the appointment of New Zealander Chris Gibbes as forwards coach ahead of the new PRO12 season.
The 40-year old Kiwi will arrive in Ospreylia in early August after 10 years with the Waikato Rugby Union, the last four as head coach of the Waikato ITM Cup team having worked his way through the provincial development system, taking them to consecutive finals in 2010 and 2011. He also assists as a development coach to the Chiefs development training squad.
Renowned as a set-piece and breakdown specialist, Gibbes has worked extensively under All Blacks forward coach, Mike Cron, recognised worldwide as one of rugby's leading scrum experts, in a range of resource roles within the NZRU development structure.
Away from Waikato, Gibbes has also gained extensive international experience. In 2007, he travelled to France for the Rugby World Cup as forwards coach of Japan, working alongside John Kirwan, while he also spent the first six months of 2012 working with the Georgian national team.
Having previously worked with the New Zealand U17 team, he returned to France this summer in his role of forwards coach of the U20s for the ongoing Junior World Championship.
"This is a very exciting opportunity for me to work with the Ospreys," said Gibbes.
"I've spoken to everybody there and it's an exciting time for the organisation so I'm pleased to be a part of it. I'm really looking forward to a new challenge and testing myself in a different environment, in two big competitions, the Heineken Cup and PRO12.
"I'll be in Wales in the first week of August, a month before the first competitive game of the new season, so it's a pretty big month for me to make sure we can hit the ground running.
"There's a quality group of players for me to work with, just look at the five forwards the Ospreys have on the Lions tour at the moment. There are also some good youngsters coming through that I can hopefully help to develop over the coming seasons. I can't wait to get stuck into it."
Andrew Hore, Chief Operations Officer at Ospreys Rugby, welcomed Gibbes to the Liberty Stadium.
"To be able to announce the appointment of someone of the calibre of Chris Gibbes as our new forwards coach is a real coup for Ospreys Rugby," he said.
"His track record and reputation in New Zealand speaks for itself.
"At Waikato he has had to work not only under a salary cap, he has worked in an environment which has been under severe financial constraints and has done a tremendous job with a young group of players, helping to establish them as one of the leading ITM Cup teams in recent seasons.
"His talents have also allowed him to get invaluable experience of other environments and cultures internationally, as well as being his ongoing involvement within the NZRU national set-up, and it was only a matter of time before he was snapped up by either a leading European Cup team or a full Super XV side.
"He is passionate about development from within, both of players and coaches, understanding that good development can create a successful team as he has demonstrated with Waikato.
"It's an outlook that matches that of the Ospreys and is essential for our long-term vision of sustainable success on and off the field.
"Chris has a major part to play within our organisation in the coming seasons, working alongside Steve Tandy and Gruff Rees.
"His role will be to not only help ensure that we remain competitive as a team at the highest level, but to continue the ongoing development that we are entirely committed to as an organisation, and he will also work closely with the next generation of players and coaches to help them reach their potential as Ospreys."