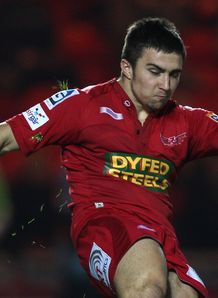 Related links
Teams
Scarlets head coach Simon Easterby was delighted to confirm that places are up for grabs at the PRO12 pace-setters following victory at Connacht.
The 24-11 win saw a second-string Welsh side put out by Easterby, with youngsters like debutant Jordan Williams one of many to stand out.
And that result has left the Scarlets top of the table after three straight wins as young coach Easterby attempts to keep his players' feet grounded.
"It's been a good start for us and we're on target but there's very long way to go yet and plenty ahead of us including a big game to prepare for this Friday (against Ospreys) - so our feet are very much on the ground," said Easterby.
"Another key part of our early season has been to rotate the squad and give all players across the group some game-time. All our bench came on and each of them made an important impression on the game.
"There's some real competition building and I was impressed with some of the young players like Jordan Williams who was under pressure from the performances Liam (Williams) has put in this season at full-back, and it was in his first competitive game at a difficult ground and in challenging conditions at the Sportsground.
"It's good to see that given we made quite a few changes on selection this weekend, the standard and performance was still up there and this shows how this group of players has developed and the competitiveness that we have in our squad."