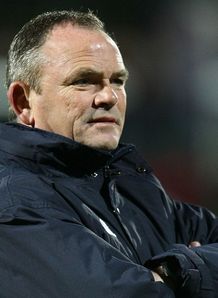 Related links
Teams
New Ulster coach Mark Anscombe is happy that his side managed to get their campaign off to a winning start but warned that there is room for improvement.
Ulster claimed an 18-10 win over Glasgow Warriors at Ravenhill in the New Zealander's first competitive match in charge.
"There is a lot to do but you would expect that, first game up," said Anscombe.
"You can have all the pre-season practice games you like but the heat of a competition game lifts the edge a bit more."
Although Ulster had most of the possession, they failed to take all their opportunities - especially when they were in Glasgow's 22-metre area. And Anscombe conceded that they must work on improving that aspect of play.
"That's what we are here for, to win our first game and we achieved that," he said.
"I wouldn't think any team will be singing their praises, thinking they've got everything right in the first round of the competition.
"Our objective tonight was to win at home and as you'd expect we've got things to work on, but a lot of positives as well."
After leading 15-3 Ulster were made to sweat when Glasgow wing Tommy Seymour scored a try which narrowed the gap to five points.
"We got out to the lead and we were still pushing and trying to play rugby which was pleasing," explained Anscombe.
"I don't think our defence was good.
"We got guys on the deck a bit too much at times and didn't bounce up and spread our D (defence).
"I don't think they were hurting us. There was the odd missed tackle but we kept Glasgow at bay pretty well."
Anscombe indicated that Ireland internationals Andrew Trimble and Stephen Ferris could return to action for next week's clash against the Ospreys but said he was happy with the way his side's overall performance against the Warriors.
"It is about what the boys can do at training and conditioning them," he revealed.
"There is two parts to the conditioning. The work they can do as far as getting their fitness up to speed and then it's getting them into game conditioning.
"Taking some knocks, getting into the contact aspects of training. It's really case by case of how advanced each player is.
"No matter who you are and how good you are, very few, if any in the world, are at their top game if they haven't been playing for two or three months.
"We've got to make sure and look at the ones, when they become available, what work and what content of workload they've done during the week to think if they can challenge to be put into the 23," he added.