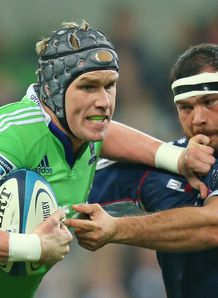 Related links
Teams
The Blues have strengthened their second row options by signing Josh Bekhuis for the 2015 and 2016 Super Rugby seasons.
The 28-year-old has been an integral part of the Highlanders forward pack since making his debut in 2009, making 82 appearances for the Dunedin-based franchise.
The 2metre, 111kilogram lock said he was excited about the move north.
"I'm stoked to have signed with the Blues," Bekhuis told the Blues' official website.
"I'm grateful for the experiences I've had down south but I thought it was time for a change. I'm looking forward to the move and being part of the Blues in 2015."
Blues head coach Sir John Kirwan said he was thrilled to secure the services of Bekhuis.
"We're really fortunate and excited to welcome Josh to the Blues," explained Kirwan.
"He's a quality lock and is exactly the sort of player we were looking for. He has plenty of experience and he's an athlete, he's tall, carries the ball well and defends well.
"e's going to be a huge asset to the franchise."