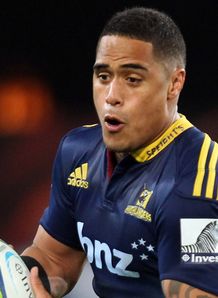 Related links
Teams
The Highlanders have revealed that scrum-half Aaron Smith has re-signed until the end of Super Rugby 2016, ending speculation about his future.
Smith's two-year contract sees him stay at the Forsyth Barr Stadium and it is clear that the All Black half-back is delighted about the news.
"I love living and playing rugby in Dunedin, it's my home and I couldn't think of a better place to be," he informed the Highlanders' official website.
"I love the team and can't wait to get back out on the field in front of our home fans in 2015."
Highlanders General Manager, Roger Clark, added: "There has been a lot of speculation over the past weeks regarding Aaron's future. I want to emphasise that Aaron has been fully committed to the Highlanders from the beginning of our negotiations and did not considered another Super Rugby Team at any stage.
"The reason the NZR and Highlanders' announcements of Aaron recommitting didn't coincide was due purely to the process the Highlanders needed to go through internally for sign off.
"It is great to be able to officially confirm Aaron will be a Highlander for the two years, we have made great progress as a team this past season and as a senior player Aaron is vital to the continuation of that success."