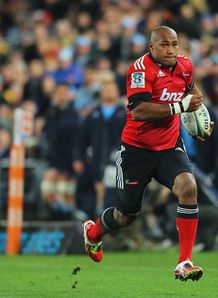 Related links
Teams
Crusaders winger Nemani Nadolo has signed a new two-year contract at the Super Rugby franchise, CEO Hamish Riach announced on Friday.
The powerful Fijian finisher, who scored twelve tries in the recent season, has agreed on terms which extend his stay at the AMI Stadium outfit.
"We have loved having Nemani in the Crusaders this season, as have our fans. So it gives me great pleasure to confirm that he will be returning to the team next year and in 2016," a pleased Riach told the Crusaders' official website.
"Nemani will return now to his NEC Green Rockets team in Japan and play out the season with them before joining the Crusaders in 2015. We are grateful to NEC for their cooperation and support in allowing Nemani to commit to the Crusaders and we look forward to continuing to work with them."
Big wing Nadolo, who was delighted with the news, added: "The Crusaders are a team I have always looked up to and I feel blessed to have been welcomed into this team."
"I have loved playing here this season and I am grateful for all I have learned, the progress I've made, and the friendships I've formed. I can't wait to come back next year and help this team take it even further in 2015."