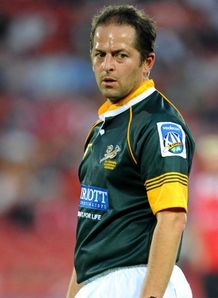 Related links
Also see
Former international referee Jonathan Kaplan has criticised the standard of refereeing seen during the recent Super Rugby season.
The South African, who refereed 70 Tests and three Super Rugby grand finals during his career, did not mince his words in rating the performances of his former colleagues.
"I have to say that the general standard of refereeing was not the best I have seen," wrote Kaplan in his review of the season on his website, Rate the Ref.
"There are some who are doing well, but the general standard is not good enough for a competition which is on the global stage.
"The work of the TMOs was a borderline disaster until the latter stages of the competition, but there was also an incident once again in the final where it appeared as if Nadolo's foot touches the line on his way to scoring the Crusaders second try.
"Something has to change. Something has to give. Otherwise this game will continue to be dogged by controversy, and there is only a certain amount that can be swept under the carpet."
Kaplan has also weighed in on the controversy surrounding the late penalty decision against Crusaders flank Richie McCaw in the tournament final.
McCaw was penalised for joining a ruck from the side in the dying minutes and commented afterwards that it was a "50-50" decision, adding that he "should have known better."
But Kaplan believes that his countryman Craig Joubert made the wrong call.
"The final penalty against the Crusaders was also incorrect as there was no tackle!" he wrote.
"This was indeed a very disappointing end to a very well refereed match, and the Crusaders would have reason to feel a little hard done by..."
Kaplan did, however, noted that Joubert "did a magnificent job" over the course of the game.
"It is no coincidence that the final was so special. He allowed the game to breathe, his composure under pressure was supreme," commented Kaplan.
"He managed the players superbly, not getting into debates when there were some close calls. His work at the tackle, post tackle and ruck was consistent which inspired confidence and attack was allowed to flourish. And crucially he ensured that there was always space for the teams to effectively utilize possession."