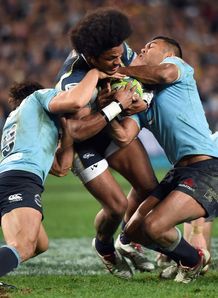 Related links
Teams
Waratahs scrum-half Nick Phipps batted off praise from his team-mates after his defensive efforts caught the eye in Sydney.
The diminutive number nine was everywhere making cover tackles when they mattered most for the 'Tahs, in a defensive effort that highlighted the various excellent parts of their game.
While praised for their attacking ethos, the Waratahs have also conceded the most points in the competition this season to book top spot and now a home final against the Crusaders.
For head coach Michael Cheika, few better define that defensive prowess than Phipps.
"His work rate is phenomenal. He had a brilliant game around that part," Cheika told AAP.
"The team recognised that definitely. He got the accolades afterwards as the players' man of the match."
Phipps dismissed the hype around his performance as merely doing his job, lauding the efforts of the whole side.
"I'm required to make those tackles in the second line of defence," said Phipps.
"Our boys were making big shots in close so I guess it was up to us little blokes out wide to make the big ones as well.
"That's definitely our best defensive effort of the season. It was one of the most intense matches I've ever played.
"It was good that we were able to weather that storm and we know that there's an even bigger storm coming."
For Phipps, the reason for the Waratahs success on defence has been the inclusion of Nathan Grey to the coaching staff.
"He's brought that hard steel," stated Phipps.
"We all grew up watching 'Greysy' when were young blokes, so we know that he's got that absolutely uncompromising style of rugby and we love that and that really filters onto the rest of the players."