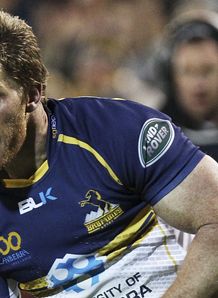 Recalled Brumbies wing Clyde Rathbone has announced that he will retire at the end of the Super Rugby season.
Rathbone will make his first appearance, since last year's final, when the Brumbies host the Rebels in Canberra on Saturday. The 32-year-old, who represented the Wallabies in 26 Tests, returned to rugby in 2013 after a previous retirement in 2009.
"This will be my last year at the Brumbies," he told The Australian newspaper.
"It would be great if we could win the next three games, make the finals and who knows what could happen?
"Whether you are a 32-year-old like me or if you are just starting out, you never know when it might be your last one. They all matter."
Rathbone said his return to the game had exceeded his expectations.
"I didn't have any hard and fast goals," he said.
"I just wanted to test myself."