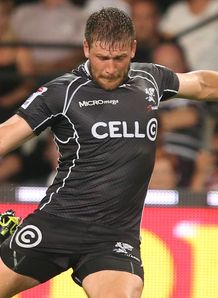 Sharks boss Jake White said Springbok centre Frans Steyn is being managed so that he can play for the Durban-based outfit.
Steyn is at the centre of attention after he failed to take part in field sessions at a Springbok training camp in Durban earlier this week.
According to a SARU press release, issued on Wednesday, Steyn was suffering from chronic knee dysfunction, and due to a request from the Sharks the load on his knee was limited by keeping him out of training.
Due to this, it appears that Springbok coach Heyneke Meyer is weighing up whether or not to risk playing Steyn in next month's Tests against a World XV, Wales and Scotland.
Steyn will, however, be in the Sharks' starting line-up when they face the Stormers in Durban on Saturday and White believes this is because the franchise is managing him in such a way that he can play for them.
"He is happy to play for as many games as he is required," White told Supersport.
"He will do what the team requires. He has slotted in from 12 to 10, played week in week out, 80 minutes each time.
"He does not want to come off in games. His state of mind is that he wants to win this competition."
White feels the difference between his approach and what might be the case with Meyer is that the Boks do not have as much time with players as Super Rugby teams do and thus can't afford to have that player sit out training early in the week.
The Sharks are, however, able to rest Steyn early in the week as they've been working together since early January.
"The situation with Frans is that he needs to be managed on a Monday and Tuesday so that he can play for the Sharks at the weekend," added White.
"I haven't spoken to Frans yet so I am not sure what has been said, but this might not be acceptable at Springbok level and they might not pick him if he can't train on Mondays and Tuesdays.
"There is greater depth available to the Boks and a lot of talented players to choose from, so it would be understandable if Heyneke thought it would be unfair to include a player who is not participating fully.
"I am just glad he rested at the camp. He has played almost every minute of every game."