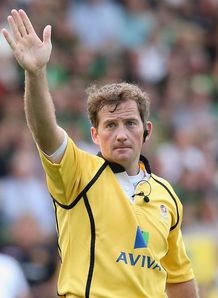 JP Doyle, Nigel Owens and Christopher Berdos will refereeing this weekend's finals in London, Dublin and Paris respectively.
Of the three competitions the French championship is by far the oldest, dating back to 1892 when the referee was Baron de Coubertin, the founder of the modern Olympic movement. Berdos will take control of his second final.
The June Tests aslo kick-off this weekend with Samoa travelling to Japan.
International Friendlies:
Japan vs Samoa at Prince Chichibu Memorial Stadium
Referee: John Lacey (Ireland)
Assistant referees: Phillips (Ireland), Michael Black (Ireland)
Television match official: Simon McDowell (Ireland)
England vs Barbarians at Twickenham
Referee: Mathieu Raynal (France)
Assistant referees: tba (Wales)
Television match official: Gareth Simmonds (Wales)
Premiership Final
Saracens vs Northampton Saints
Referee: JP Doyle
Assistant referees: Wayne Barnes, Paul Dix
Television match official: Graham Hughes
Championship Final
London Welsh vs Bristol
Referee: Wayne Barnes
Assistant referees: John Meredith, Roy Maybank
Television match official: Rowan Kitt
Top 14 Final
Toulon vs Castres at Stade de France
Referee: Christophe Berdos
Assistant referees: Romain Poite, Sébastien Minery
Television match official: Laurent Valin
Pro 12 Final
Leinster vs Glasgow Warriors
Referee: Nigel Owens (Wales)
Assistant referees: Leighton Hodges (Wales), Ian Davies (Wales)
Television match official: Derek Bevan (Wales)
Super Rugby, Round 16
Crusaders vs Force at AMI Stadium
Referee: Mike Fraser (New Zealand)
Assistant referees: Mike Lash (New Zealand), Richard Kelly (New Zealand)
Television match official: Vinny Munro (New Zealand)
Reds vs Highlanders at Suncorp Stadium
Referee: Andrew Lees (Australia)
Assistant referees: Rohan Hoffmann (Australia), Graham Cooper (Australia)
Television match official: Steve Leszczynski (Australia)
Chiefs vs Waratahs at Yarrow Stadium
Referee: Chris Pollock (New Zealand)
Assistant referees: Richard Kelly (New Zealand), Grant Stuart (New Zealand)
Television match official: Ben Skeen (New Zealand)
Blues vs Hurricanes at Eden Park
Referee: Garratt Williamson (New Zealand)
Assistant referees: Brendon Pickerill (New Zealand), Mike Lash (New Zealand)
Television match official: Glenn Newman (New Zealand)
Brumbies vs Rebels at GIO Stadium Canberra
Referee: Steve Walsh (Australia)
Assistant referees: James Leckie (Australia), Will Houston (Australia)
Television match official: Peter Marshall (Australia)
Lions vs Bulls at Ellis Park
Referee: Craig Joubert (South Africa)
Assistant referees: Lourens van der Merwe (South Africa), Sieg van Staden (South Africa)
Television match official: Marius Jonker (South Africa)
Sharks vs Stormers at King Park
Referee: Jaco Peyper (South Africa)
Assistant referees: Stuart Berry, Stefan Breytenbach
Television match official: Johan Greeff