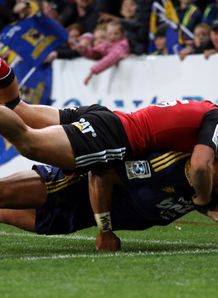 Related links
Also see
Inches short of clinching victory for the Highlanders against the Crusaders last weekend, Patrick Osborne thought he had scored.
TMO Vinny Munro disagreed, condemning Osborne's team to a 30-32 loss to the Crusaders in a thrilling battle.
Osborne, 26, respected the decision but maintained his belief that he had done enough to score.
"I thought I had scored it," Osborne told NZ Newswire.
"The TMO thought otherwise. You just have to respect the decision. There is nothing you can do about it.
"When I scored I was pretty happy but at the same time I got the cramps and had to stay on the ground to try to control that. And, when I got up, they were still taking time to decide.
"It was pretty deflating but I was also proud the way we came back after the Crusaders scored those two tries. It was a great game of rugby really, certainly one of the best I've played in."
Assessing his season as a whole, Osborne added that he felt part of the side and his confidence was high as a result.
That's something the Reds are currently lacking as the Highlanders head to Brisbane, but the winger is cautious.
"I've done the stuff I wanted to do and I think I've gelled with the rest of the backs and the team," added Osborne.
"You have to have confidence in your ability or the battle is lost before you take the field.
"They have nothing to lose and they'll throw everything at us. And it's Will Genia's 100th game. But it's also our last game until the end of June and we know we'll have heaps of rest after Brisbane."