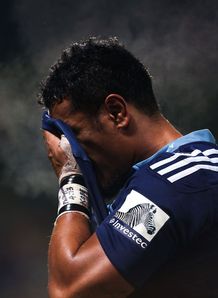 Blues eight Jerome Kaino is grateful for his continued game time at the back of the scrum as he works up his fitness to Test level.
Kaino spent two years in Japan following New Zealand's World Cup success in 2011, before returning to Auckland in pre-season.
Selected by Steve Hansen for the Test series against England, Kaino has put his good form down to the number of opportunities handed to him by the Blues.
"I wouldn't say it has been easy. It's a lot harder getting up the day after a game and having to bounce back and [prepare] during the week. I just put it [my form] down to the amount of game time I've been getting," Kaino told the Dominion Post.
"I prepared myself to come back to the Blues and not get much game time because of the amount of talent we have there at loose forward.
"I'm just stoked to be starting every week and some weeks playing 80 minutes and that's allowed me to adjust a lot more quickly."
Adding that more time playing at the right level of intensity in Super Rugby would eventually get him back into the shape required for Test rugby, Kaino compared the rigours of playing for the Blues to in Japan.
"That [level of fitness] would require me getting used to the team structures and being in this environment a lot longer," added Kaino.
"Test match is definitely a few steps up from Super Rugby, so I wouldn't go that far.
"I know what it's like to be part of this squad to mentally prepare. For me it was harder being in a game and having to hit a ruck with everything you have and then having to hit the next ruck with same amount of intensity, and also within the tackles and ball carries.
"In Japan you can switch on and off with what you do physically where here you just can't do that.
"I believe I still have a bit of rugby in me."