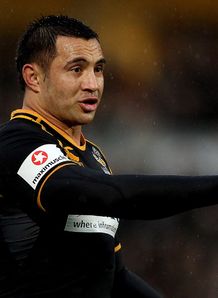 Wellington and former British and Irish Lions back Riki Flutey is targeting a return to Super Rugby next year with the Hurricanes.
Flutey has signed a one-year deal with Wellington to play in this year's ITM Cup after spending the last two years in Japan.
The 34-year-old last played in the competition in 2005 before moving to the UK with first London Irish and then London Wasps, winning 14 caps for England and touring with the Lions in the process.
Flutey has spent the last two years in Japan playing for the Ricoh Black Rams, but is now back in New Zealand looking to sign off in style.
"Mentally and physically I'm still keen to keep playing at a high level. I knew my body could handle it and take it and even though I'm 34 I don't feel like the old guy on the field," Flutey told the Dominion Post.
"The two years in Japan have been great for my body. In terms of the physicality it wasn't too demanding and in terms of getting the injuries right and doing heaps of fitness there has been great.
"I approached Wellington and asked them where they were with selection and that I was keen to come back and be a part of it if they were. I know I've got a lot to offer.
"I need goals to play at the highest level and if there is an opportunity to wear the Hurricanes jersey again it would be awesome to do that. That will be my drive to compete in the ITM Cup.
"And if it doesn't happen its not the end of the world. I feel like I've achieved a lot in my career, but wouldn't it be great to finish up where it all started with Wellington and the Hurricanes."