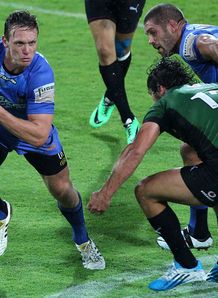 Winger Dane Haylett-Petty and lock Wilhelm Steenkamp will return to the starting line-up when the Western Force takes on the Lions.
Haylett-Petty missed the Force's last round match against the Stormers after succumbing to a groin strain suffered in the 23-16 win over the Cheetahs in Bloemfontein the week prior.
The 24-year-old replaces Marcel Brache on the end of the backline after Brache sustained an ankle injury against the Stormers.
Steenkamp returns to the run-on side after starting from the bench against Stormers, and will pack down in place of Adam Coleman, who will start from the reserves list.
The Force has retained the remainder of the 23 from last weekend's match in Cape Town.
Western Force Head Coach Michael Foley says his side is looking forward to returning to the 'Force Field' on Saturday.
"We love playing at home and we're looking forward to the game this weekend," said Foley.
"The Lions have proven to be a dangerous side on the back of a strong set piece and their commitment to play for each other, and I believe the boys are refocused and ready to rip in."
Force: 15 Jayden Hayward, 14 Dane Haylett-Petty, 13 Chris Tuatara-Morrison, 12 Luke Burton, 11 Nick Cummins, 10 Sias Ebersohn, 9 Ian Prior, 8 Ben McCalman, 7 Matt Hodgson (c), 6 Angus Cottrell, 5 Wilhelm Steenkamp, 4 Sam Wykes, 3 Kieran Longbottom, 2 Nathan Charles, 1 Pek Cowan
Replacements: 16 Heath Tessmann, 17 Tetera Faulkner, 18 Ollie Hoskins, 19 Adam Coleman, 20 Brynard Stander, 21 Justin Turner, 22 Zack Holmes, 23 Patrick Dellit
Date: Saturday, 24 May
Venue: nib Stadium, Perth
Kickoff: 19:40 (local, 09:40 GMT)
Referee: Steve Walsh (Australia)
Assistant Referees: James Leckie (Australia), Ian Smith (Australia)
TMO: Peter Marshall (Australia)