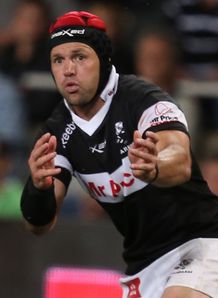 With Jean Deysel suspended, Jacques Botes has been drafted in by Sharks boss Jake White for Friday's clash with the Blues.
The rest of the team remains unchanged for this crucial game.
The Sharks have something of a psychological hold over the Blues, enjoying a run of eight wins that extends back to their last loss against the Auckland side in 2005. While that might be reason to smile, it's really just false confidence explains Director of Rugby Jake White.
"The Crusaders have had our number over the years and we ended up turning the tables on them, so if there is one team that knows history is important - but meaningless - it's the Sharks," said White.
His team were forced into defending heroically against the Crusaders and he expects - as one would against New Zealand teams - to be under pressure from a home side who place strong emphasis on their attacking prowess. They've scored amongst the most tries in the competition this year and a win would put them right in line for a top six finish.
"We are going to have to defend," added White. "I don't think they will kick as much as the Crusaders did, they'll definitely try run it back at us and they've got some dangerous outside backs.
"But, in saying that, we need to make sure that the rest of our game is good enough as well, we can't rely on defence only. We got away with it against the Crusaders but I don't think you can defend like that week in and week out. We are going to have to create some pressure when we are attacking as well."
There has been talk of the scarcity of tries scored in the last month or so and there were encouraging signs against the Crusaders where they outscored them three to one. White acknowledges this.
"There has been a lot of criticism about our lack of tries," admitted White.
"To put it in perspective, the Crusaders had scored nearly 100 points in the two matches before we met, and they scored just one try against us. But, the positives are that we scored three tries and there is a massive positive vibe in the team now and we need to take that forward into the next couple of weeks."
Sharks: 15 SP Marais, 14 JP Pietersen, 13 S'bura Sithole, 12 Paul Jordaan, 11 Lwazi Mvovo, 10 Francois Steyn, 9 Cobus Reinach, 8 Willem Alberts, 7 Tera Mtembu, 6 Jacques Botes, 5 Stephan Lewies, 4 Etienne Oosthuizen, 3 Jannie du Plessis, 2 Bismarck du Plessis (c), 1 Tendai Mtawarira
Replacements: 16 Kyle Cooper, 17 Dale Chadwick, 18 Lourens Adriaanse, 19 Ryan Kankowski, 20 Keegan Daniel, 21 Charl McLeod, 22 Tim Swiel, 23 Heimar Williams
Date: Friday 23rd May
Venue: North Harbour Stadium
Referee: Nick Briant (New Zealand)
Assistant referees: Mike Fraser (New Zealand), Aki Aso (Japan)
Television match official: Aaron Peterson (New Zealand)