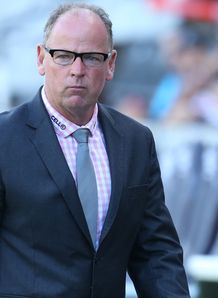 Sharks boss Jake White's return to Canberra adds spice to this weekend's top-of-the-table showdown between his side and the Brumbies.
The former World Cup-winning Springbok coach quit the Brumbies halfway through a four-year contract after steering the Canberra-based side to last year's final.
White went to South Africa and took charge of the Sharks, who lead the southern hemisphere provincial series by five points from the Brumbies heading into Saturday's confrontation.
White's return dominates pre-match talk, in Canberra, as the Sharks attempt to keep their rivals at bay with seven rounds left to July's play-offs.
"It's the elephant in the room that he turned us around and now he's coaching another team that is the only other team ahead of us," said Brumbies' playmaker Matt Toomua.
"So we've obviously spoken about it, but at the end of the day our focus is on the fact that we had a big loss (to the Crusaders) last weekend and we need to have a big win this weekend."
The Sharks, who kicked off a four-match Australasian tour with a win over the Melbourne Rebels last week, have only won twice in 10 visits to Australia's capital and face one of their biggest tests of the season.
"It does (provide an advantage) because I know the players better than most, after working with the Brumbies for a long time," White said.
"I know the weaknesses they had when they were developing their game. Obviously, they would have worked on those weaknesses and got better, but I do know them well.
"At the end of the day, this is the type of game you want to be involved in, you want to be top of the log, playing against a team that's second on the log."