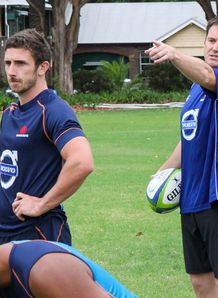 All Blacks legend Andrew Mehrtens has suggested New Zealand and Australian teams should ditch their South African Super Rugby counterparts.
In his column with Stuff.co.nz, the former fly-half argued that the future of Super Rugby and provincial tournaments lie in a more "localised" format.
"I can't help thinking we might have lost a little interest in playing South African teams, and that ultimately the future of this competition might be more localised round time zones," wrote Mehrtens.
"The provincial championship still has a pretty strong following, and if you're looking at what Australia and New Zealand needs, maybe it's that parochialism, that tribalism which is very important.
"The logistics of involving South Africa are problematic - the travel and time difference - and maybe it would be better for all concerned just to play within our time zone and include teams from the Pacific Islands and Japan.
"Maybe there could still be post-season involvement with South Africa, but their natural alignment is more with the UK and Europe, in the same time zone.
"New Zealand needs to align with a couple of big economies. It can't be the UK or France, so we have to look at helping grow the game in Australia. It's a biggish economy and there's a lot of money to be tapped into if it's done well.
"Japan would be the other natural alignment that could help with the finances.
"You might have 20 teams in our time-zone - eight or so from New Zealand, maybe six in Australia and the rest from the islands and Japan.
"Australia has a lot of potential for growth, especially with broadcasting revenue, and New Zealand needs to recognise this. At the moment rugby is the poor cousin of the winter codes but that could easily change."