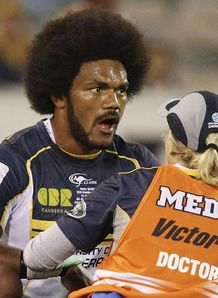 Brumbies winger Henry Speight proved his resilience last week, after passing up painkillers for a broken jaw to celebrate with his team.
Speight's 50th game was over when he was forced to come off against the Waratahs after breaking his jaw in two places, but he wanted to watch the rest of the game.
After celebrating with his teammates, and failing to sing the team's victory song, Speight delivered a speech and then promptly drove himself to the hospital for surgery.
"I had too much pride to come off the field, I thought I had just lost a tooth," Speight told the Sydney Morning Herald.
"I told the medical guys the least I can do [for my teammates] is watch the rest of the game in my 50th, and the guys got the win.
"I tried to sing the song but there was nothing coming out. I just wanted to do a speech to thank the boys for how they finished the game, that was really gutsy.
"But they said it was about time I spilled some blood on the jersey, it took me 50 games."
Speight has now had his second operation, involving three metal plates and eight screws, as his six-week recovery process continues.
The 25-year-old from Suva, Fiji, will finally qualify to play for the Wallabies in September.