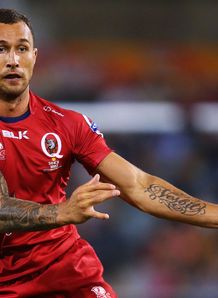 Reds fly-half Quade Cooper believes gaining the momentum against the Waratahs is key if they are to make it two wins from two this Saturday.
Cooper, who was instrumental in Reds' 27-17 win over the Brumbies in Canberra last week, says his team has the mental edge over the 'Tahs.
"No matter what sport you play, if you can get momentum against a team then momentum tends to stay in your favour for a while and it is a tough task to slow that momentum," he said.
"We know the Waratahs will be hungry to beat us, but at the same time this (Reds) team is hungry to continue to have that stranglehold."
While there is interest in whether full-back Israel Folau will again prove too hot to handle, the Waratahs are talking up flanker Jacques Potgieter's impact in his first season in Sydney.
"He's a big unit. He's got shoulders the size of a bloody door and he whacks blokes with them," said Waratahs prop Paddy Ryan.
"He's brought physicality and he enjoys the combative style of rugby."