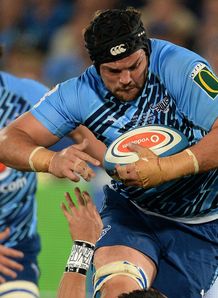 Playing for the Bulls is one thing, captaining them is a task that transforms the average milk beard into barbwire-like stubble.
Fortunately for Flip van der Merwe, he has donated his fair share of the red stuff for the Springbok cause and the battle scars he sported in his first press conference at Loftus showed just that.
As Van der Merwe walked into the firing line at his home ground for the first time you could almost hear Valiant Swart sing "Sy dra teveel eye shadow."
The big lock forward had a blue eye to show for each of his team's defeats and was fielding questions from scribes who, quite understandably, were dissecting the team's poor start to the season.
Regular captain Pierre Spies' late withdrawal ahead of their record first loss against the Bloemfontein squad - Spies has been ruled out for up to six months - left the Loftus lads in a tricky situation where a new leader had to be appointed.
And Van der Merwe was their man.
The big lock would later concede that having Victor Matfield at his side is an advantage most new captains could only dream of and, in staying true to traditions set by his predecessors, he took ownership of what transpired on the park the previous weekend.
Asked about his first experience as leader in the only South African team that has tasted Super Rugby success, he said that the fact that he was put in charge of the team made the loss even tougher to swallow.
"It is definitely a lot worse. I think you feel a little bit more responsible, but Ja losing in a Bulls jersey is never nice, it is never acceptable and we will have to rectify that this weekend."
Van der Merwe will partner Matfield in the second row against a resurgent Lions squad this weekend with long lost son Jacques-Louis Potgieter taking over one of the most important positions in the Bulls playing pattern.
Michael Mentz in Pretoria