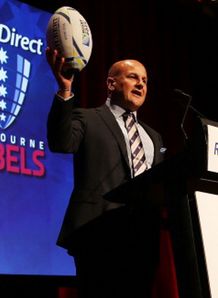 Melbourne Rebels boss Rob Clarke has lambasted controversial ARU proposals to centralise a number of its Super Rugby franchises.
The ARU are known to be struggling financially, and have put forward tentative plans to merge the respective operations of the Rebels, Waratahs, and Reds to form one eastern seaboard stronghold.
Meeting on Monday to discuss the future of Australian rugby, the ARU have mooted the idea of having teams pool resources and reduce expenditure.
"[ARU chief executive] Bill Pulver has talked about challenges in the game and looking at ways to make it more efficient and more effective to deliver our programs," Clarke told SEN radio.
"But to think that a pure centralisation model is going to solve the ills of Australian rugby is an absolute joke.
"And if anybody went down that path, [they'd] be running an enormous risk of blowing up the game once and for all.
"There are discussions around the broadcast and Super Rugby changing formats ... [it] doesn't mean the Rebels will be axed or combined into anything else, it couldn't be further from the truth.
"As far as I know, no model has been articulated or agreed ... I don't think the Reds throwing their fairy dust around Australian rugby landscape will solve the ills of the game, we've all got our challenges."