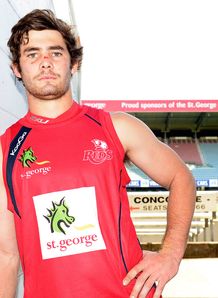 Reds flanker Liam Gill have revealed that his ambitions to represent the Wallabies led to him rejecting a move to France.
The 21-year-old openside faces a stiff battle to win a Test spot with David Pocock and Michael Hooper also competing for the number seven jersey.
"I was in touch with them [French clubs]. But I was more than happy to stay with the Reds and Australian rugby. I just backed myself to give it a shot," Gill told the Canberra Times.
"I really do back myself to make it at Australian level and that's where I want to end up. I want to make sure I give myself that chance.
"I've still got a lot to prove. [Hooper and Pocock] have both been ahead of me in the pecking order and that has been the case.
"There's a lot that I need to go out and prove. That's what I set out to do. It's Super Rugby where I can show what I can do and influence the game."
The Reds got off to the perfect start with a confidence-boosting win away to last season's finalists the Brumbies last Saturday, with Gill admitting the victory had generated a lot of excitement in the camp.
"There's a lot of excitement here. Putting together a big win like that first up was really big. We didn't beat them [the Brumbies] last year," added Gill.
"That gives us a lot of confidence. It puts a fair bit of fire in the belly to try and keep that rolling."