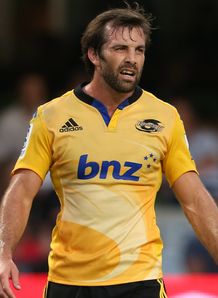 Hurricanes and New Zealand centre Conrad Smith was not expecting the Stormers to lose to the Lions last weekend in Round Two.
Smith, who is currently with the 'Canes preparing to face the Stormers at Newlands this weekend, caught a replay of the match and expects Allister Coetzee's team to be much improved this weekend.
"I watched a replay of the game and yes, I was surprised," Smith told Die Burger.
"As was the case with us, the Stormers played their first game last weekend. The same happened to the Crusaders last year when they lost to the Blues after having a bye in the first round.
"These things happen. I'm sure the Stormers will be a totally different team this week."
The Hurricanes also suffered a defeat in their first match of the season up in Durban against the Sharks, going down 27-9.
Smith pinpointed the set-piece as a key reason for his side's demise, admitting the Hurricanes let themselves down.
"We struggled in the scrums early in the game," added Smith.
"It's not like set pieces are a weakness for us but it counts as one of the Sharks and Stormers' strengths.
"It's easy for the backs to blame the forwards, but we had enough chances to beat the Sharks. We let ourselves down."