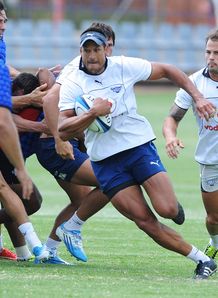 Related links
Also see
The Bulls will be without captain Pierre Spies for a large part of the season after he was ruled out of rugby due to an arm injury.
Spies suffered another bicep muscle injury to his upper arm, the same injury that sidelined him in June last year, resulting in the number eight missing the remainder of the 2013 season.
According to Bulls team doctor Org Strauss, the player complained about pain in his bicep after the Stormers warm-up match.
A MRI scan and ultrasound of the area was done and did not show any damage, but as the pain did not go away after the opening Super Rugby match against the Sharks, two other opinions were also called for.
These specialists found bleeding and rupture of the bicep after more scans and decided upon immediate action.
Spies will be operated on this week and will miss at least six months of rugby.
Commenting on the loss of the influential player, Bulls coach Frans Ludeke, admitted it was a setback.
"Especially as we recently just lost Arno (Botha) for the rest of the season," he told the Bulls' official website.
"Both players are Springboks, were an important part of our game plan and contributed tremendously in the leadership category. But we have learned by now that you have to adapt when the injury bogey strikes, so we will have to adjust accordingly," Ludeke said.
In other injury news, Strauss confirmed that Deon Stegmann will be seeing a specialist on Wednesday regarding his groin injury.night, but will train on Wednesday.
Mornč Mellett has been declared fit, following his back strain.