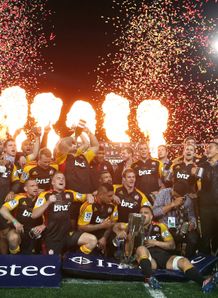 Related links
Also see
A new Super Rugby model has been agreed at a SANZAR meeting in Sydney on Thursday to expand the tournament to 17 sides.
According to a statement released by SANZAR, a sixth South African team - most likely to be the Kings - will be included along with a team from Argentina.
The new structure requires approval from the Unions of each country but would mean that Argentina are included in the tournament for the first time, with South Africa having more teams in the competition than Australia and New Zealand.
"A scheduled meeting of SANZAR's Executive Committee took place in Sydney on Thursday where the future of Super Rugby was among the agenda items," read a statement.
"Today's meeting was another important step in deciding the future of Super Rugby," said SANZAR CEO Greg Peters.
"Encouraging progress was made and we now have a preferred model that involves six teams from South Africa and a new team from Argentina.
"The model will now be taken to the National Unions for approval before SANZAR presents its final position to broadcasters and fans in due course."