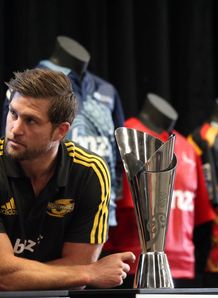 Related links
Also see
Refreshed and fighting fit following a good pre-season, Hurricanes and All Blacks winger Cory Jane is excited by the new campaign.
Jane returned from a serious knee injury late in 2013 to take part in New Zealand's November Tests, but missed the majority of the year.
Hungry to prove that he still has what it takes to turn matches, Jane has underlined his ambitions for the new year.
"I wasn't quite where I wanted to be but I still played and was injury free. So I guess that was the plus side," Jane told Stuff.co.nz.
"I've had a pre-season now, done a lot of leg weights which you need when you have a knee injury. It's like before I was injured, so I'm feeling excited again.
"I've got to prove I can still play at an elite level - not just go out and be a rugby player. I still want to make things happen."
Jane's absence through injury has meant that Julian Savea and Charles Piutau have locked down the wing spots for New Zealand, with the 31-year-old World Cup winner out to put them under pressure.
"I knew I had to get my act together and work hard because the pressure wasn't on me, the pressure is on the guys who are starting in the All Blacks jersey," added Jane.
"They have to work hard every week because I'm coming for them. That's the mentality I've got now. I'm not done."
Jane's immediate focus though is with the Hurricanes, who despite a talented squad featuring the likes of Savea, Conrad Smith and Beauden Barrett have failed to deliver in recent times.
"We've got so much talent, but we've just been too shaky over the last couple of years," stated Jane.
"We've worked a lot in the pre-season on everyone knowing their roles and everyone being held accountable now.
"You walk in the kitchen and someone just put a plate down without washing it. Bang! Hit him with it - 'clean your plate'. Those little things are important because if you skim over them it's going to be like that for the whole year."