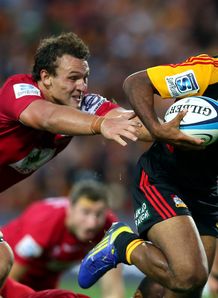 Reds back-rower Jake Schatz wants the 2011 title winners to keep their unbeaten run going against current champions the Chiefs.
Schatz and his side will take on the Chiefs this weekend in a pre-season fixture in Toowoomba, with the Reds' first fixture away to the Brumbies looming on February 22.
Richard Graham's side have not lost to the Chiefs since 2009, despite the Waikato franchise winning the last two Super Rugby titles.
"We've had a lot of success against the Chiefs over the years, but I think the pre-season match will set us a good benchmark for where we need to be in 2014," said Schatz.
"They play an expansive style of Rugby and it really puts you under pressure defensively and they're also an aggressive side in defence, so I'm sure they'll be on song when we take to the field. We'll have to be ready for the challenge."
Schatz insisted that whilst pre-season had been long, he was benefiting from the training programs and was eager for a run-out this weekend.
"It's been a pretty long pre-season but it has given me the chance to get back to good level of strength and fitness and I'm excited to play this weekend," added Schatz.
"I'm looking forward to playing in front of the regional crowd, we have a lot of support in Toowoomba and the Darling Downs region. I think the numbers have tripled in the area for support and junior participation so it's good to be able to head out there and put on a show for a great crowd."
Reflecting on the 2013 season, when the Reds were knocked out of the qualifying round by the Crusaders after finishing 5th in the regular season, Schatz believed a lack of accuracy in attack hindered the Reds' chances.
"I think we have been missing a little bit of detail in attack, we've been focusing on being able to finish,"he s aid.
"Last year we got over the line plenty of times but we'd be held up or knock the ball on so I think it's about that detail of being strong through the contact and pushing each other through those little gaps and finishing those tries.
"For us as a team, linking forwards and backs helps our game, if we can do that well I think we're at our best so the back rowers have to put our hands up and take on that role this year."