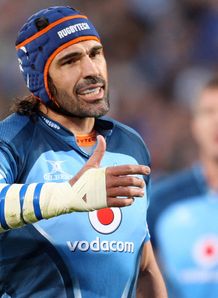 After playing 30 minutes in his first game back after retirement, Bulls lock Victor Matfield is confident of playing a full game.
The Bulls hosted the Stormers in a Super Rugby warm-up match in Polokwane on Saturday but although the Cape Town-based franchise claimed a 26-19 win, the most significant thing about the fixture was Matfield's return after a two-year hiatus.
The former Springbok, who retired after the 2011 World Cup, took to the field at the Peter Mokaba Stadium in the 49th minute to loud cheers.
And he confirmed that although it was strange to make an appearance off the replacements bench, he was happy with his 30 minute cameo and looking forward to getting a full game under his belt.
"Ja, definitely," he told the Business Day.
"I never played only 30 minutes, I was always used to playing 80, so I felt pretty good. No aches or pains. I'm very happy. I'm satisfied with my condition.
"I'm surprised, I thought the knocks were going to be worse but I took it all right."
Although the 36-year-old is one of the most experienced players ever to play the game, he admitted there was little difference between his second coming and a youngster making his debut.
"I must say I was a bit worried, but it felt good," added Matfield.
"It (the pressure) was pretty much the same as my debut, but there was maybe more of it this time around. When I went for the warm-up everybody cheered, I knew I had to perform. I'm used to the pressure - it was good.
"I'm quite happy with the outing. It's just a pity we didn't win, although it was only a warm-up game."
And despite going down to their arch-rivals, Matfield was happy with his performance.
"It felt very good," he said.
"I thought the line-outs went very well. I put in quite a few tackles - that felt good. I'm happy with the way things turned out.
Bulls boss Frans Ludeke was also impressed with the returning veteran's effort, and expects more from him in the Super Rugby competition.
"It's great to have him back," said Ludeke.
"His experience will be crucial in the competition when we play the big games. I think he came through with flying colours this weekend.
"This was exactly the contest we wanted before Super Rugby. I think we did well in all facets of the game."