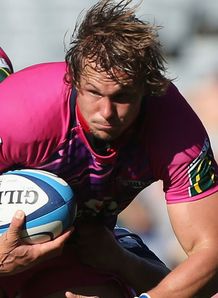 Bulls back-row Arno Botha has been ruled out for at least six months after sustaining an ACL injury against the Stormers on Saturday.
Botha had impressed in the pre-season game before picking up the knock, but it will come as a bitter blow to both player and franchise; he will sit out most of this year's Super Rugby.
Indeed, the match marked Botha's return to rugby after injuring the same knee back in June 2013, which left him sidelined for the remainder of the Bulls' Super Rugby and Currie Cup campaigns.
"Arno was pivotal for our Super Rugby campaign during 2014. He was very influential in his time on the field against the Stormers before his injury and it was great to see him return to his best form after his previous injury." said Bulls coach Frans Ludeke.
"We wish Arno all the best for the surgery as well as the road to recovery ahead and together with our medical and rehabilitation team we will work together to ensure Arno's return to the field later this year."
Deon Stegmann will miss a week of training follow an abductor strain while Francois Hougaard, Jurgen Visser and Dean Greyling will return to training on Tuesday.
Marvin Orie (four weeks, leg fracture) and Mornč Mellett (two weeks, back) are still out of action.