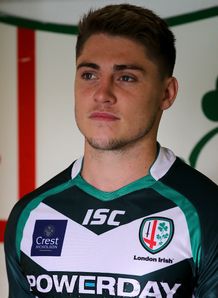 Related links
Also see
London Irish have confirmed that Australia international James O'Connor will leave the club at the end of the season after completing his six month contract.
O'Connor has indicated that his wish is to play in the 2015 Super Rugby competition in the build up to the Rugby World Cup.
That schedule could only have allowed London Irish to sign another short-term deal which doesn't fit with the club's future plans.
"I have thoroughly enjoyed my time at London Irish and I'm looking forward to the next few months," said O'Connor.
"The club welcomed me in with open arms last year in what was a difficult time and have been brilliant to me during my time so far.
"I've learnt a great deal both on and off the field and will leave at the end of the season with great memories and mates too.
"I would particularly like to express my gratitude to the owners of the club, especially Mick Crossan who is a passionate Irishman with great visions for this special club. I will be following closely to see how the boys get on and who knows what might happen further down the line."
"James is a world class player who has had a very positive impact on the team and I'm sure he'll play his heart out for us until the end of the season," said London Irish Director of Rugby, Brian Smith.
"He will head back to Australia in 2015 to follow his World Cup dream and the club wishes him well with that. If the opportunity ever arises in the future then he will always be welcome back at London Irish."
O'Connor is expected to sign a short-term deal with Toulon before he then returns to Australia.