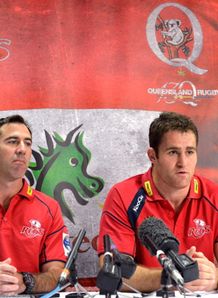 Reds boss Richard Graham seeks a return to the free-flowing rugby that helped the side to their only Super Rugby title in 2011.
The Reds have completed the first part of their pre-season, and now head into the Christmas break with Graham satisfied with their progress to date.
"We've been working on both the attack and defensive aspects of our game while also trying to develop the technical components of our set piece," said Graham.
"Nick Stiles has been working really hard with the forwards and I'm really pleased with the scrum and line-out.
"Steve Meehan has continued to work hard with our attack and evolve the style of game we want to play.
"The Reds have been known as innovators and entertainers and I'm sure you'll see that continue."
Graham's men have two pre-season trial games lined up in early February - firstly against the Chiefs in Toowoomba on 8th of the month, then taking on the Rebels at Ballymore six days later.
"We've set the trail games up next year to give us a good run into Super Rugby," he added.
"The game against the chiefs on February 8 will be a fantastic start for us and we'll be well prepared for what is sure to be a fast paced and physical encounter.
"The week after, we return to Ballymore to take on the Rebels and the match provides the players with a great opportunity to play at the spiritual home of Rugby but will also give fans a taste of what they can expect in 2014."
While the Reds are now bereft of the services of several more experienced campaigners - including Adam Wallace-Harrison, Radike Samo and Digby Ioane - they have added Lachlan Turner from the Waratahs, and can call upon a plethora of promising youth players.
"I've been really pleased with Lachie Turner's application since he arrived three months ago, he has gelled in with the group really well and has delivered all the class we have come to expect from him," confirmed Graham.
"It's also great to see Dave McDuling back in full training after suffering two season ending knee injuries, he is training really well and with a lot of confidence.
"Another new addition to the Reds for 2014, has been the introduction of the wider training squad, which has seen a number of Queensland's rising young talents invited to join the Reds pre-season training, exposing them to the professional environment."