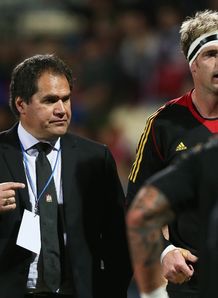 Chiefs coach Dave Rennie is confident Sonny Bill Williams will return to Test rugby after signing a two year deal with the NZRU.
Williams will return to New Zealand Rugby with the Chiefs in 2015 before trying to make the World Cup squad with the All Blacks.
Rennie believes Williams - who was part of the Chiefs side when they won their first Super Rugby title in 2012 - will easily make the team for the 2015 Cup campaign in England.
"You look what he did in league, probably took him a couple of games to get his head around things and he was a dominant figure, obviously was rewarded, the international rugby league award, so no I don't have an issue with that at all," he told New Zealand's TV 3 News.
He'll just be back getting his body right and then he'll slot in quickly."
Williams will spend 2014 defending the NRL title with the Sydney Roosters, before rejoining Chiefs coach Dave Rennie and the Super Rugby champions.
"He said he's desperate to come home, there's a World Cup at the end of that so I guess our job will be to get him back into rugby and get his head around playing (second-five) again," added Rennie.
Williams is also keen on representing the New Zealand Sevens team at the Rio Olympics in 2016.