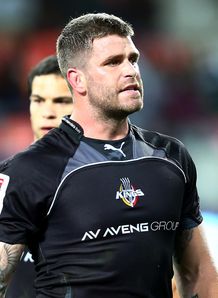 Related links
Also see
Sharks boss Jake White has made contact with back-row Luke Watson and could sign him for next year's Super Rugby competition.
The former Springbok coach will assess the Kings captain in the new year and said he has no issue with picking the player he was forced to include in the Bok squad in 2007.
Watson is optimistic about making a possible return to the Sharks. He made his Super Rugby debut for the Durban-based franchise, as a 19 year-old, before moving to the Stormers.
He then captained Premiership club Bath before returning to South Africa in 2011 when he joined the Kings.
"It was a very encouraging and exciting telephonic chat," Watson told Keo.co.za
"I should be training again by mid-January and be available to play near the end of February.
"Jake said we would chat again mid January and asked for a regular update on my injury recovery."
Watson said both men have moved on from the unfortunate events of 2007.
'So much of what happened back then was third-party related," he added.
"It is history. What excites me is the now and what is possible in the future. I am committed to the Kings but have always stated my desire to play Super Rugby again - and Jake's phone call gives me hope that if my fitness and form is good enough I will be a consideration at the Sharks.
"It adds to the motivation for 2014."
White, who guided the Brumbies to a runners-up position in this year's Super Rugby competition, believes the Sharks are good enough to win Super Rugby.
"The Sharks have incredible depth and I will look to any player who can add to the depth of the squad and to a successful 2014 challenge," he said.
"I have already drafted in a few Kings players who impressed me in 2013. Luke missed half the Super Rugby season because of injury and I wanted to establish his recovery period from the foot operation.
"I also wanted him to know that I wanted to have a look at him when he was fit again and that as far as I was concerned the past belongs in the past and that all I was interested in was putting together the best possible Sharks squad."